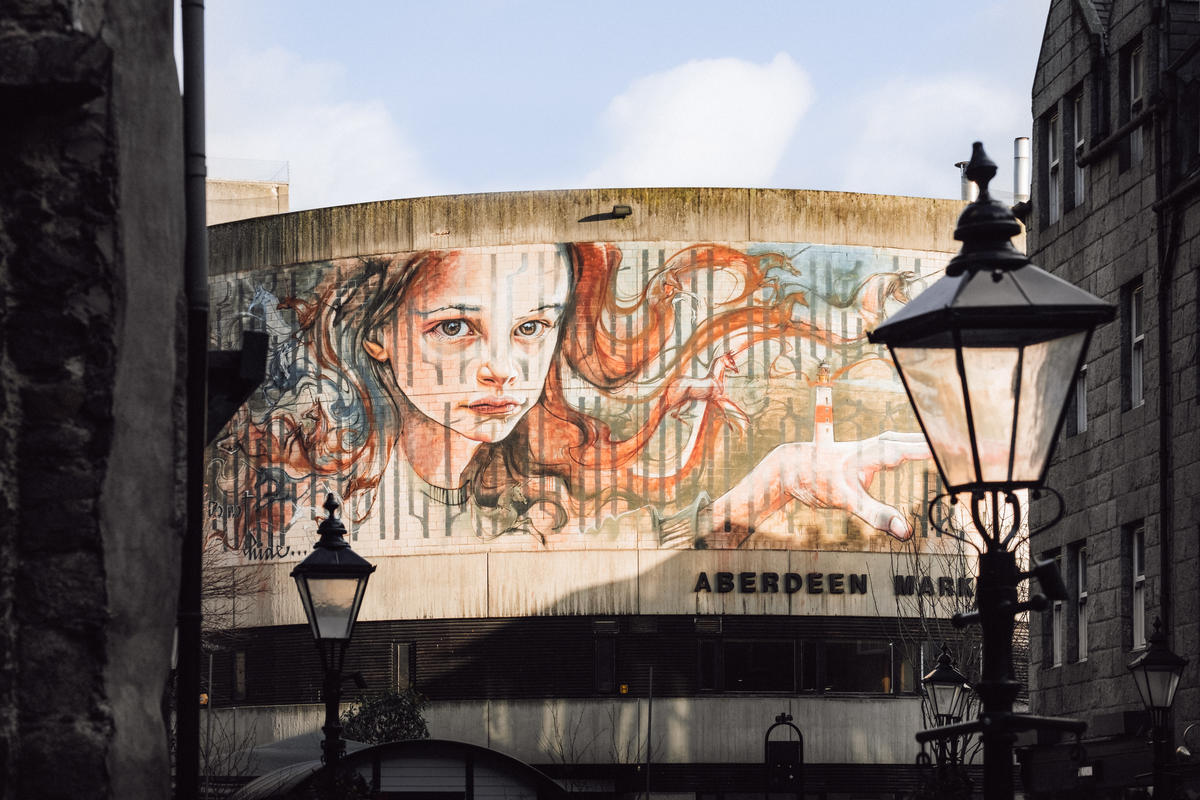 The multi-award-winning festival came about thanks to a partnership with Aberdeen Inspired, Nuart in Stavanger, Norway, where it began back in 2001, and Aberdeen City Council. The festival has also been supported by a wide range of local partners including Burness Paull, The McGinty's Group, Crown Decorating Services and Scotia Access Services.
Nuart Aberdeen links the two cities, which share a legacy of being gateways to the offshore oil and gas sectors and now enjoy a wider cultural partnership, celebrating art that has its roots in graffiti, murals, stencil art and activism.
The now iconic festival has produced dozens of compelling and inspiring street art works by internationally acclaimed street artists. The festival weekend consists of a packed weekend of events, film screenings, talks, walking tours and workshops which have collectively engaged tens of thousands of residents and visitors alike. However, it is the permanent legacy that remains which sets Nuart Aberdeen apart from any other cultural event in the city, which the public can freely explore year-round.
Adrian Watson, Chief Executive of Aberdeen Inspired, is rightly proud of the festival:
"Nuart Aberdeen has left an incredible legacy in our city that can be enjoyed by residents, businesses and visitors all year round. It has changed the perceptions of both locals and visitors to Aberdeen and achieved worldwide acclaim."
Arguably one of the world's best celebrations of street art, the festival has already won numerous awards, and research has revealed that 98% of visitors rated the festival as excellent or good and 96% of visitors stated they would recommend the event to friends and family.
Mr Watson added: "Over the summer, many thousands of people go on to enjoy the free guided walking tours which take place between April and September. And not just local people, but visitors from across Europe and around the world who will have spent time discovering everything that the city centre has to offer."
Nuart Aberdeen is unique to Scotland as the only curated annual public street art festival and has continued to establish itself as an event for everyone, young and old, resident and visitor, and people from all different walks of life in its offering, whilst building on an already impressive legacy which continues to attract local, national and international audiences. 
But it's not just Nuart Aberdeen that is bringing the city to life. The Aberdeen International Comedy Festival has positioned Aberdeen as a must visit destination for comedy, with plenty of other examples including the popular Aberdeen Restaurant Week and Inspired Nights on the Green, which continue to draw people into the city centre.