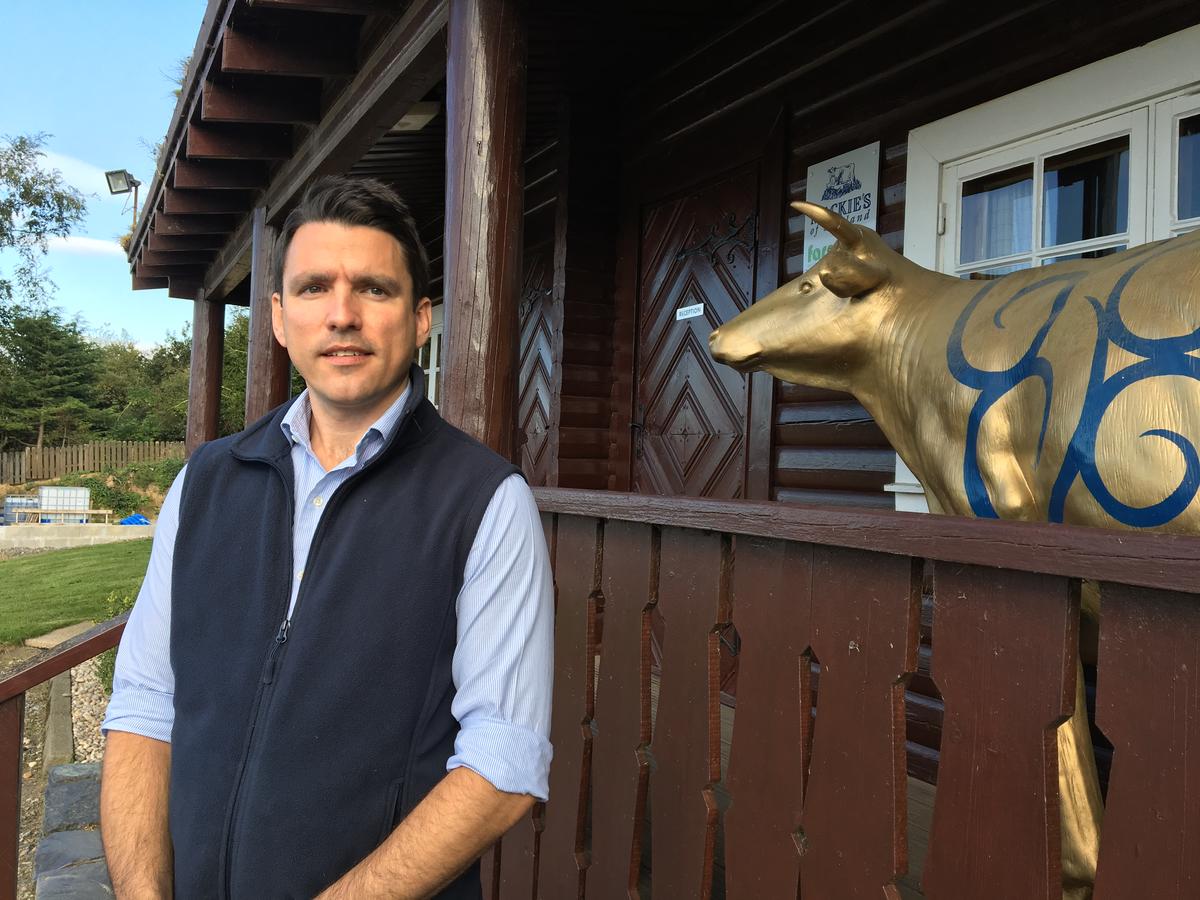 Imagine if you could turn sunshine into ice cream. This vision has become a reality for one family business in Aberdeenshire that has ambitions to power its farm, dairy, chocolate and ice cream factory entirely by renewable energy.
Mackie's of Scotland has been producing ice cream from its herd of 300 Holstein/Friesian and Swedish Red cattle for over 30 years. But the company has bigger ambitions, with a mission to establish a Scottish global brand from the greenest company in Britain. 
To make this happen, the family installed the farm's first commercial wind turbine in 2005 and in 2015 built the largest solar farm in Scotland at the time, made up of almost 7,000 panels stretching over ten acres. This, along with three biomass boilers that provide heat to the company's headquarters and eight other properties, means the mix of wind, solar and biomass provide 70% of the farm's energy.
Last year Joe Lane, director of production for the business, moved to Aberdeenshire with his family to help the company further its green-powered ambitions. Originally from Nottingham, Joe approached Mackie's with a plan to install a low-carbon refrigeration system run on ammonia – a natural refrigerant gas that poses no threat to the environment. Company managing director, Mac Mackie, then brought him on board to make the £4 million investment a reality.
"I have been very invested in the project, so when Mackie's were looking for a new Production Director, Mac asked me if we would consider relocating," said Joe. "The ammonia refrigeration system, coupled with a biomass driven absorption chiller, will be the first of its kind in Scotland."
Some may be surprised to learn that a solar farm can thrive in the north of Scotland, but others have since followed in Mackie's footsteps, with larger solar farms having been built in Perthshire and another planned even further north in Moray. 
Joe explained: "Aberdeenshire gets favourable sunshine hours compared to many parts of Scotland. The generation capacity based on sunshine hours in this area provided an acceptable return on investment for Mackie's and contributes towards a key objective within Mackie's mission statement."
Meanwhile, the new refrigeration system is a key stepping-stone for the company's plans to be 100% powered by renewable energy. It will enable Mackie's to significantly reduce the amount of electricity it consumes, targeting an ambitious 80% reduction in CO2 emissions. The project has also attracted significant government funding to promote it as a demonstrator of innovative, low carbon technology for other Scottish businesses.
"Mackie's has always been bold when it comes to investing in renewable and low carbon technologies," said Joe. "This is something I find very exciting."